Comfort Now Holiday Heater Giveaway
Do you know someone who has fallen on hard times and really needs a NEW Heater in the Atlantic or Cape May County area?
Once a year, the Comfort Now Team selects a resident of Atlantic County or Cape May County to receive a NEW Heater. The FREE heater will be given to the person or family with the greatest need and most compelling story...Is that you or a friend of yours?
Holiday Heater Giveaway Details Include:
Entries MUST be submitted by Tuesday, December 6th, 2022
You can nominate yourself, a relative OR a friend in need
Nominees MUST reside in Atlantic or Cape May County and
OWN THE HOME where the equipment is to be installed
One Recipient will be selected and announced on December 23rd, 2022 with an on-site visit by Comfort Bob!
To Nominate a Family in Need, follow these steps:
Complete the form below and provide photos - add details as needed
Tell us a COMPELLING STORY to be considered
Cross your fingers and hope your nominee gets selected
Meet Our 2022 Recipient
Could This Be You?
Nominations Have Now Closed, Check Back Soon To Vote For Your Nominee!
Now in our 9th year, our Holiday Heater Giveaway has helped some great people. Meet a few of our previous recipients...
Claire H.


2021 Recipient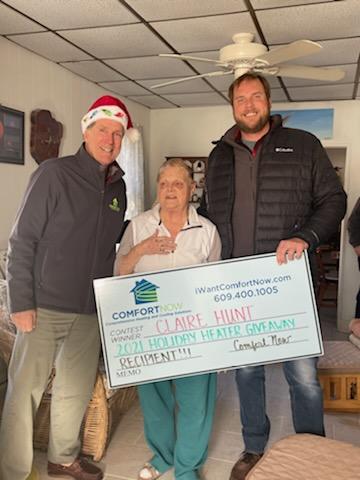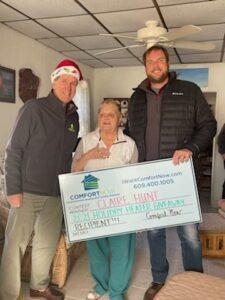 (use fullscreen for best video quality)
(use fullscreen for best video quality)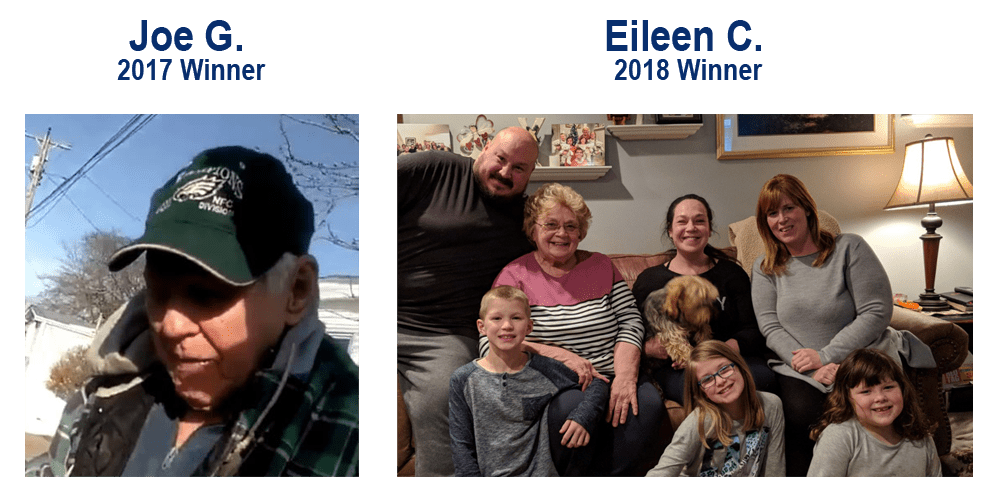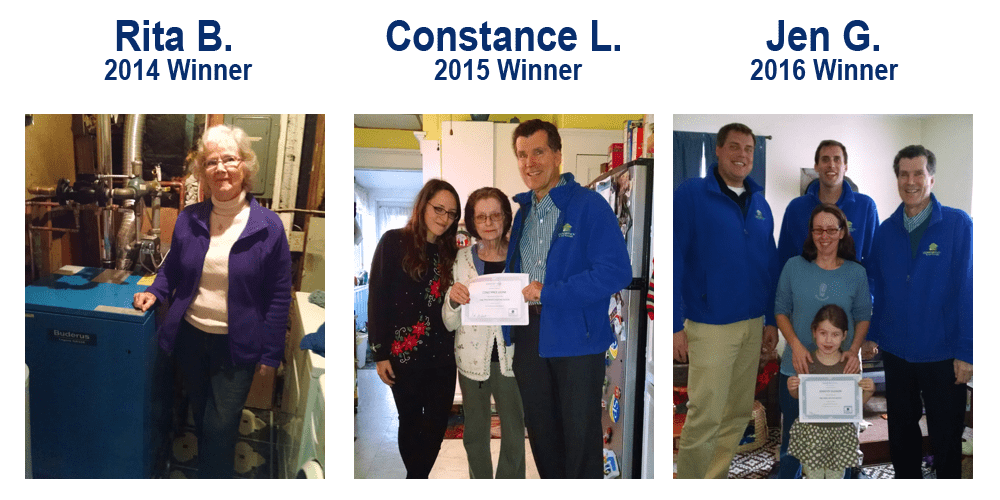 Holiday Heater Giveaway Guidelines:
Due to the many different types and numerous styles of heaters, we set the following guidelines for giveaway entries.
The winner of our Holiday Heater Giveaway MUST reside in Atlantic County or Cape May County in New Jersey and MUST own the home in which the heater is going to be installed (tenants do not qualify). This "replacement unit" shall replace a gas warm air furnace or electric heat pump. The proposed "replacement unit" shall be a new 80% AFUE Gas Replacement Heater supplying up to 110,000 BTUs. The "replacement unit" has an estimated retail value of $5,000.00. In the event the winner elects to install higher efficiency equipment or gas hot water heating boilers (both of which require a larger investment) the $5,000.00 credit will be applied to a "replacement unit" of the winner's choosing.
The installation of the "replacement unit" shall include reconnection to the existing distribution system (duct or pipe) currently installed in the property and reconnecting to the existing electric and gas supply (also currently installed). The new vent pipe for the new "replacement unit" shall be installed up to 5' in order to connect to the existing chimney. New warm air furnaces require adequate duct sizing for proper flow and operation. If substantial changes to the duct are required, or there are electrical deficiencies within the property, additional costs may be incurred. The installation of the new 80% AFUE Gas Replacement Heater does not include air conditioning components. Air Conditioning components may be purchased separately as needed. The new 80% AFUE Gas Replacement Heater comes with a manufacturer's warranty on parts and a 1 year labor warranty from Comfort Now.
Comfort Now does not install or service oil fired equipment and the only consideration given for oil fired equipment entries will be in the event the current oil heater is being replaced with a new gas fired heater or heat pump we provide. This requires that you have propane or gas service to the property, or you elect to have a new heat pump installed. Conversion to gas (or a heat pump) may have a larger initial investment. If you have, or are eligible for gas service from South Jersey Gas, you may also be eligible for special financing and rebates on qualifying natural gas equipment.
So if you have an old oil heater and want to convert to natural gas, propane or a heat pump, submit your entry today!
By submitting an entry for this promotion, you give Comfort Now permission to use your images (and name) in future communications and/or marketing efforts.
Best of luck and we look forward to seeing your submissions!