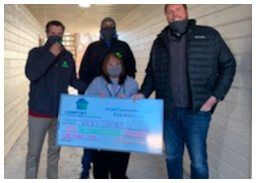 Overall, life throughout 2020 and 2021 has been challenging for most people; but it's been A LOT more challenging for some more than others. So what can an HVAC company do to help struggling people this holiday season…let's give away another FREE heater to a very deserving family!
Do you know someone who has fallen on hard times and may be in desperate need of a NEW Heater in the Atlantic County or Cape May County area?
A couple of years ago, we had the idea to give away a heater to a deserving family during the holiday season. This small gesture grew into a bit of a trend where we started running this giveaway every year. We've since expanded the giveaway to other contests where we try and help as many people in Atlantic and Cape May Counties as we can. Last year, we had so many great entries that we couldn't help just one family – so we helped FIVE!
Leon Wallop of Galloway (one of our five recipients) would be a 2020 recipient of Comfort Now's Holiday Heater Giveaway.
Well, it's time to do it again!
Over the next few weeks, our team will be selecting a resident of Atlantic County or Cape May County to receive a NEW Heater. The FREE heater will be given to the person or family with the greatest need and most compelling story…Is that you, a relative or a friend of yours?
If you know someone in need of a new heater and cannot afford to replace
their current unit, here's what you need to do…
Go to our giveaway page, enter some basic information about the person in need and tell us their story. We will review the information you submit, visit the home of the nominee to get an idea how serious their needs are, then our team will meet and select a winner. The details about the giveaway can be found here. Remember, you can nominate a friend, a relative, a neighbor, a co-worker, or simply nominate yourself! We just want to help any way we can…but hurry, submissions for the giveaway will only be accepted through Sunday, December 12th, 2021.
As an added bonus, anyone that submits their information, whether they are nominating themselves or someone else, will receive a coupon for $300 OFF a heater replacement. Use the coupon yourself, or give it to a friend to keep the giving spirit going…but don't delay!