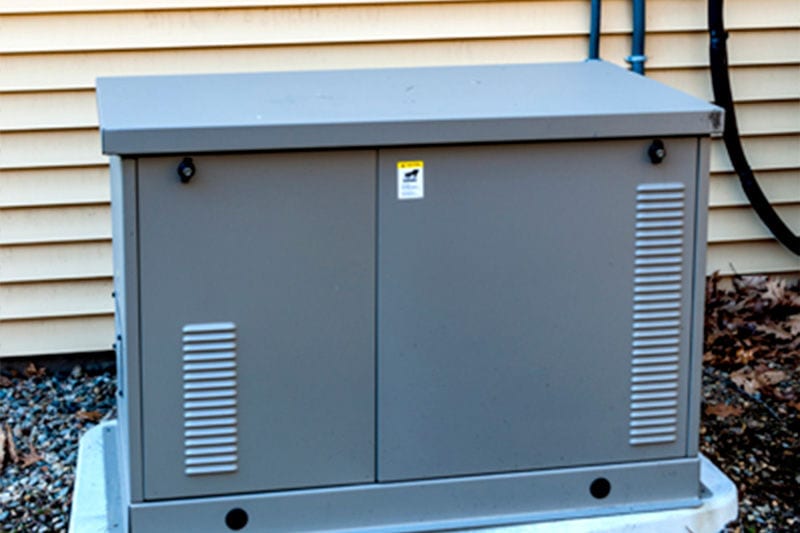 A standby generator can turn a New Jersey power outage from a crisis to an inconvenience within seconds.
This whole-house unit keeps the electricity on in your Egg Harbor Township home when you lose your utility company-supplied power.
A standby generator, which runs on natural gas or liquid propane (LP), uses a transfer switch to disconnect your electrical panel from the utility grid as soon as it detects power loss. It takes over as the panel's primary power source.
When the electric company restores power, the generator switches the panel back to the electric grid and then "stands by" for the next outage.
Our pros at Comfort Now by Bob McAllister regularly size, install and maintain standby generators in the South Jersey Shore. We can recommend the best unit capable of powering the circuits, appliances, along with your heating, ventilation, and air conditioning (HVAC) equipment in your home during an outage.
We can help you determine the best location for your standby generator. A generator typically sits on a concrete pad outdoors, just like a central air conditioner does.
What Causes Outages?
The weather is a primary cause. Strong winds, lightning, ice, and snowstorms can knock down power lines or topple trees and other objects that interfere with electrical wires.
The threat of a weather-related outage can happen year-round. Spring downpours, summer storms, fall winds, and winter nor'easters can result in power outages.
The blizzard that hit the Atlantic coast late last month spared New Jersey from widespread power loss but knocked out electricity for thousands in other nearby states.
Next time, we may not be so lucky.
Equipment failure and overloaded transformers also cause power outages regardless of weather conditions.
According to the U.S. Energy Information Administration (EIA), U.S. electricity customers lost over eight hours of power on average in 2020. New Jersey electricity customers lost approximately 16 hours of power during 2020.
When a Generator Is a Lifesaver
If you or another member of your household rely on electric-powered medical equipment, such as an oxygen generator or dialysis machine, a standby generator is a lifesaver. Electricity also is essential for power wheelchairs, nebulizers, CPAP machines, and rechargeable batteries used with medical devices.
At Comfort Now by Bob McAllister, we can put your mind at ease by installing a generator that will seamlessly switch power sources when you need it. You probably won't notice when your standby generator kicks in.
You will not have to worry about hauling a portable generator from a garage or shed during a storm, adding fuel, hooking it up to a transfer switch, and flipping the switch. A standby generator uses an automatic transfer switch.
Home Protection, Value
A standby generator is more costly than portable equipment but adds value to your dwelling. A well-maintained generator can last more than 30 years and is a desirable feature if you plan to sell your home.
Think of it as an investment in your Egg Harbor Township home. 
A standby generator can help prevent your water pipes from freezing by operating your heating system during a winter power outage. It can keep the contents of your refrigerator and freezer from spoiling and your sump pit from overflowing. It enhances safety by keeping lights, your doorbell camera, and your security system operational during an outage.
You will breathe easier knowing your air purifier, humidifier, or dehumidifier will continue to maintain your indoor air quality (IAQ) when you lose utility-supplied electricity.
Reliable, Convenient
If you work from home, you cannot afford to lose power. A standby generator will supply the electricity needed to run your Wi-Fi system, printer, and computer, all essential components of a home office.
Whether you are working from home, homeschooling your children, or simply kicking back to watch TV, a standby generator offers the best solution for maintaining comfort and safety during a power outage.
Get a Generator Today
The best time to buy a standby generator for your Egg Harbor Township, NJ, home is before you need it. Ask us at Comfort Now by Bob McAllister for options. Call us at 609-400-1005 or request service online.