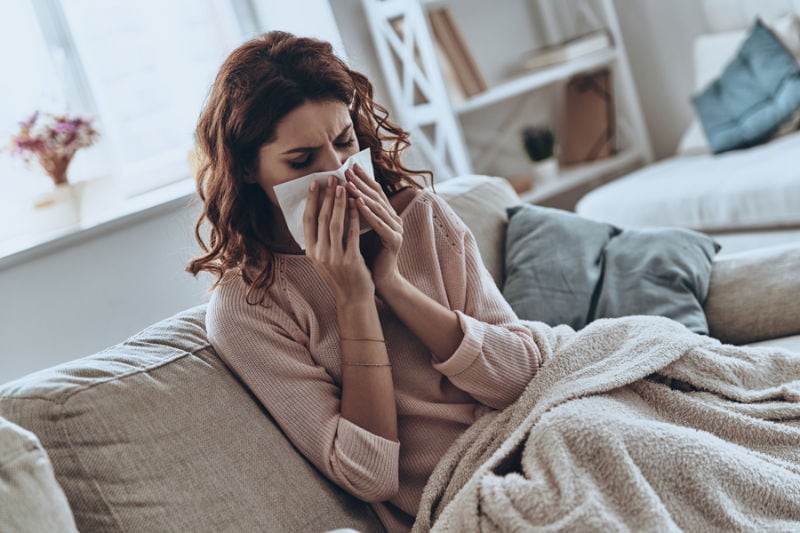 Are you sniffling and sneezing through spring because of pollen on the South Jersey Shore? You are not alone.
Pollen can trigger allergic rhinitis, which causes sneezing, runny nose, and congestion. Allergic rhinitis affects as many as 60 million Americans annually and medical costs linked to pollen total more than $3 billion annually, according to the Centers for Disease Control and Prevention (CDC).
When pollen counts are high in Cape May Court House, one of the best precautions you can take is staying indoors and keeping windows closed. Use your central air conditioner or the cooling mode on your heat pump to keep the temperature inside your home comfortable on warm, spring days.
Your home should be a sanctuary from pollution. If the air inside your home contains pet dander, dust, smoke, mold, and other contaminants, it may be dirtier than the atmosphere outdoors.
At Comfort Now by Bob McAllister, we can help you improve your indoor air quality (IAQ) and assist with your heating, ventilation, and air conditioning (HVAC) needs. You deserve indoor air that helps you stay healthy, especially when the extended time outside is not an option because of a pollen allergy.
Breathe Fresh Air
When outdoor pollution, including pollen, is low, you can open windows to enhance your living space with fresh air. When that is not an option, a whole-house ventilator is one of the best ways to freshen indoor air year-round.
A ventilator can help maintain the appropriate humidity level indoors. It also heats or cools the fresh air, depending on the outdoor temperature, as it enters your home.
In addition to ventilators, Comfort Now by Bob McAllister offers humidifiers, dehumidifiers, and other indoor air quality solutions from Carrier and Aprilaire. We also recommend the Air Scrubber Plus by Aerus and Halo-LED air purifiers for ducted heating and cooling equipment and the Mini Split PHI system by RGF for ductless systems.
How Indoor Air Affects You
With Americans spending approximately 90 percent of their time indoors, maintaining good air quality at home is more important than ever.
Mold, pet dander, insects, dust, dirt, dust mites, smoke, household chemicals, and nitrogen dioxide (NO2) produced by gas-burning appliances can taint your indoor air. These allergens can cause sneezing and congestion, aggravate respiratory diseases, such as asthma, and make your home life miserable.
Protect Your Indoor Air Quality
Good indoor air quality in your Cape May Court House home starts with regular HVAC checkups. Preventative maintenance can keep your air conditioner, furnace, or heat pump clean and operating at peak efficiency.
Air filters play an essential role in trapping dust and other particles, preventing them from circulating throughout your home. Inspect air filters monthly and change them every 90 days. Our experts at Comfort Now by Bob McAllister can recommend the best high-efficiency filter for your HVAC system.
You can reduce the amount of dust and dirt in the air by keeping your home clean. Vacuum your air vent registers and floors, dust regularly, use exhaust fans in your bathroom and kitchen, and replace harsh household products with environment-friendly alternatives. Launder bedding weekly in hot water and tumble dry to kill dust mites.
Wash pollen out of your hair and change your clothing after spending time outside. Remove your shoes at the door to avoid depositing pollen on the floors.
Whole-house air purifiers take your living space to the next level of cleanliness. They not only reduce smoke, dust, mold spores, and other particulates but also kill viruses and bacteria. We can install an air purifier that best suits your comfort needs.
Clean Your Indoor Air Today
Comfort Now by Bob McAllister offers solutions to remove allergens from your indoor air in Cape May Court House, NJ.  We can help you achieve your comfort goals. Call us at 609-400-1005 or request service online.