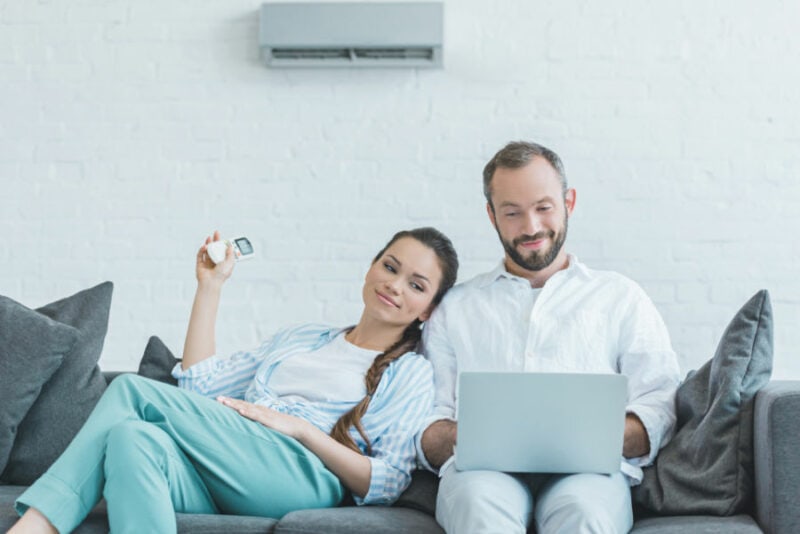 When COVID forced many of us to work from home, we found out our home really wasn't that comfortable. The temperature in that spare bedroom we turned into an office was way warmer/cooler than the rest of the rooms.
Are any rooms or areas in your Avalon home warmer or cooler than other sections? If you're struggling with temperature variations in your sunroom, new addition, or entire upstairs level, don't live in discomfort any longer—there are many solutions available.
When your goal is to increase the comfort level inside your South Jersey home, look to Comfort Now by Bob McAllister. We are here to provide suggestions and solutions to problems with your indoor environment.
Of course, we can also offer the most efficient heating, ventilation, and air conditioning (HVAC) services so you can enjoy your indoor living experience. No matter what your home needs, we would be honored to assist.
Solutions for Temperature Variations and Problem Areas
If your home has varying temperatures in different areas or rooms of your home, these solutions can help:
Upstairs too hot?
Let's start with simple: Turn the "fan" switch on your thermostat to On instead of Auto. This will allow the air to circulate and draw some of that warm air that would sit upstairs back into the system.

Those pull-down stairs are a disaster when it comes to allowing hot or cold air to come from the attic to the house. I put an Attic Tent in my home and was amazed at the difference it made on my second floor. Let us install one for you!

Do you have an attic fan? These are frequently counterproductive. Typical attic fans take about a bedroom full of air out of the attic every minute! Unless the vents in the attic will allow that much air to come in (not in most homes), the attic fan is pulling air out of your home through the attic steps, recessed lighting, and even through your light switches and outlets. That's air you just paid to cool so turn it Off!
Make it more comfortable by "blending" the air.
Smart thermostats by Honeywell allow for multiple thermostats to be installed and they will communicate to try to get the temperatures in different areas closer or allow you to prioritize which area is in control. Remain comfortable downstairs during the day, and upstairs at night. Like many thermostats today, these offer WiFi control.
Zone your existing system?
Depending on the design of the duct system in your Somers Point home, we may be able to put Honeywell electric dampers and controls in that allow you to have thermostats in multiple locations to give you independent control of each area.
Supplement your existing system.
We hear this all the time: My system heats the whole home evenly in the winter, but the upstairs is 4 to 10 degrees warmer in the summer! We may be able to install just a cooling system in your attic to give you that extra boost of cooling. This allows you to use your existing system and have the additional cooling system come on only when you want it to.
Add a Mitsubishi Electric cooling and heating system.
Have comfort issues with that room over the garage or the attached family room? Have a garage or basement that you like to work in? Are the kids out of the house and it seems like a waste to cool all the bedrooms when all you need is independent comfort in the master bedroom?

Sometimes one room or area of your home heats or cools less comfortably. Adding a ductless system—also known as a mini split—could be a simple way to fix this. By adding a Mitsubishi Electric ductless system to a problem room or area, you can get personal comfort whenever you want it!
Improve the Comfort of your Egg Harbor Township home and let New Jersey help you finance it and provide rebates! (This money comes from your tax dollars so you may as well get some of it back!)
In New Jersey, we have some of the best incentives in the country to improve the energy efficiency of our homes and in turn substantially improve our comfort. The New Jersey Home Performance with Energy Star program (HPwES) will provide no/low interest financing up to $15,000 for up to 15 years and provide rebates up to $4,000 to seal and insulate your home and install high-efficiency heating, cooling and water heating equipment.

This is not smoke and mirrors. The stringent requirements of this program result in real savings on your utility bills, but it also radically improves the comfort level of your home because of the sealing of the air leaks and adding substantial insulation.

Participants in this program have told us it's made an amazing change in the level of their comfort in their Galloway home. Many have noted how their upstairs used to be 5 to 10 degrees hotter than their downstairs, but now it is much more comfortable without taking any of the above measures! Let us go over this program with you and see if it is the right fit. Like we said, your taxes pay for this program so let's get some of your money back!
Today's equipment is not your parents' heater or air conditioner!
Today the range of equipment options in Carrier Heating and Cooling Equipment is almost mind-boggling: multiple stages of heating and cooling, super quiet variable speed fans, blowers, and controls that integrate all the components for optimum comfort, and great products to improve indoor air quality (IAQ). (We've been in our homes a lot more due to COVID and many indoor air quality products are designed to kill germs and viruses as well as grab that stuff that causes respiratory problems.)

From a single source on the wall (or your phone), you control the temperature, humidity levels, and scheduling, and that same control will tell you (or us) if there is a problem brewing, your filter needs to be changed, or you're due for maintenance.

Is the noise from your air conditioner too loud when you're enjoying outdoor living or do you need to turn the sound up on the TV when the heat or air conditioner comes on because it's too loud inside? That's all been fixed. Some folks tell us they have to put their hand over the vents to know the heat or air conditioning is on.

And, going back to the theme of this piece, this equipment helps reduce the comfort issues in those problem areas.

By the way, we mentioned controlling humidity. Humidity has a major impact on your comfort level during the summer and winter, and if you get that under control, you'll be amazed at the difference. But that's a topic for our next blog so look for it!
We Are the Heating and Cooling Experts
For all your heating and cooling concerns, you can trust Comfort Now by Bob McAllister with more than 75 years of collective experience in the business between Bob, RJ, and Casey. Ask your friends or check out our more than 1,000 online reviews! Our mission is to provide world-class service and increase the comfort level inside your Avalon, NJ, home. There's no company more suited to address your needs. Call us now at 609-400-1005 or schedule service online.  You can book an appointment for an evaluation of your needs online too at www.iWantComfortNow.com because you deserve Comfort Now!